In 1994/95 Zuheir Saba was president of the club.On Tuesday the 5th of July 1994 the club meeting was for the change of Presidents from Elie Nakhle to Zuheir Saba.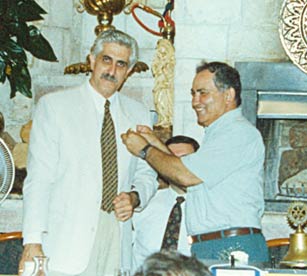 Just before the meeting the news spread in Nazareth about the Death of Mayor Toufic Zayyad in a car accident near Jericho The outgoing and incoming presidents decided to go on with the official Meeting and cancel all the other items of the program.
Outgoing President Elie opened the meeting and asked all present to stand up for a minute in memory of the late Mayor and friend of the Rotary Club, Member of Knesset Toufic Zayyad.
PP Emile Nuseir was asked to give The wisdom of the day.
Issam Srouji gave the International Toast to Plain Ville in the USA For their donation of $ 1500.- to the
projects of the club.
Elias zaher gave the Ladies Toast after which Elie Nakhle spoke about last year projects then he thanked the members for their cooperation and help in making the Rotary Year 1993/1994 a successful year.
President Elie then handed over to Zuheir the Pin of the President thus signaling the beginning of Rotary Year 1994/1995 Past District Governor thanked Elie for all what he had done to the club of Nazareth and congratulated the new President Zuheir wishing him a successful year full of activities for the benefit of the community.